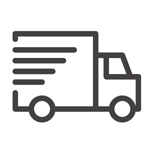 SHIPPING & DELIVERY
*Note our shipping policies have recently changed due to changing market conditions.
*Please note we don't allow customer pick-ups, all orders must ship out from our warehouse.
Free Shipping Threshold
Customers receive free shipping on orders $250+ before tax
Orders below the threshold will incur a flat rate delivery charge of $30.00
*Orders being delivered to Northwest Territories, Nunavut, and Yukon will incur a flat rate delivery charge of $60.00 (ex. TAX) regardless of order total.
Surcharges
Surcharges will apply to products that fall into either of the below categories. These products are clearly marked on our website:
Dangerous Goods Surcharge - if your order contains any dangerous goods (DG), a standard $35 surcharge will apply to your order unless otherwise stated.
Bulky Goods Surcharge - items are marked as Bulky Goods on our website and a freight charge based on the specific product purchased will apply. Freight charge will be calculated at checkout.
Delivery Timeframes
Delivery time estimates by area for in stock items.
British Columbia/local shipments deliver in 1-2 business days
Alberta shipments deliver in 2-3 business days
Prairies (SK & MB) shipments deliver in 3-4 business days
Ontario/Quebec shipments deliver in 4-5 business days
Maritimes (NL, PEI, NS & NB) shipments deliver in 5-7 business days
Territories (YT, NT & NU) shipments depend on shipping service & location
*Ask our team for more information about shipping up north